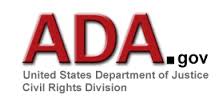 A new target may be added to the current wave of ADA lawsuits against hospitals, if a recent AZ suit is an indication — or perhaps more accurately, a storm warning.
The serial lawsuit business has taken a new turn when a lawsuit was filed alleging that various Phoenix area businesses were violating ADA requirements because the company websites were not appropriately accessible to individuals with visual impairments. The cases depend on whether or not websites are held to be "public accommodations" under the ADA, Title III. The answer to that question is in its early legal stages of being answered nationally, while some federal courts have required a physical location and others have required a "nexus" between the website and the physical location. The facts of each individual case are highly significant to the course that Courts take in their analysis.
Hospitals, which are already defendants of choice for many hearing impaired serial plaintiffs, typically have very general information type services online and not direct access to services. As more direct reservation services and other access applications are added, hospitals in "nexus" jurisdictions might find plaintiff's attorneys testing the waters for new causes of action. The ADA suits typically sue for money, injunctions mandating changes in operations, and attorneys' fees.
Healthcare risk managers should add CMS compliance to ADA rules and website "accessible" site standards to their plan for threat awareness and avoidance.