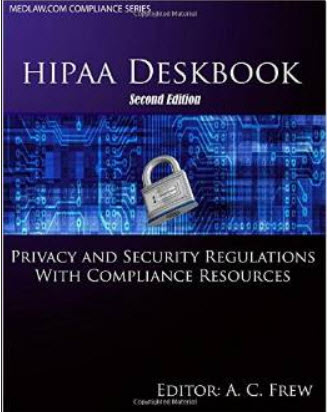 My daughter has just released the second edition of her HIPAA Deskbook on Amazon. She used college vacations to expand the previous edition by more than 100 pages at dad's prompting so I would have an expanded resource on my desk rather than searching a computer.
I like to highlight and mark frequently-used sources and keep an actual book on my desk for reference. I use it too — just yesterday I answered a nurse's HIPAA question with "chapter and verse" in just a few seconds because I had her beef-up the index for quick reference.
I also hope that it will result in fewer calls home for bank account deposits from dad. (Four years down next month and then only two more to go.)
Here's the Amazon description:
This is the HIPAA Privacy and Security reference for healthcare providers, business associates, privacy officers, attorneys, and compliance officers who prefer hard-copy reference materials within easy reach. Official government materials have been arranged to put the authoritative language at your fingertips.
More than 100 pages of new materials have been added to the first edition (2013) to give you critical documents, including:

The Omnibus Regulation updated Security and Privacy regulations
Office of Civil Rights (OCR) audit standards that describe exactly what auditors are to ask for in terms of documentation
OCR Sample format for Notice of Privacy Practices • OCR Sample Business Associates Agreement
OCR guidance on Risk Analysis Requirements under the HIPAA Security Rule (with carry-over for meaningful use expectations)
Self-assessment checklists for physical safeguards, administrative safeguards, and technical safeguards for Risk Analysis compliance
OCR sample list of interviews and questions for a HIPAA onsite compliance investigation
HHS guidance on HIPAA when communicating with a patient's family, friends, or others
HHS guidance on Disclosure to Law Enforcement
HHS guidance to law enforcement on HIPAA restrictions and permitted disclosures
HHS Frequently Asked HIPAA Questions

This reference features a heavily detailed Table of Contents and Index for quick access to important points.
The direct link to the Amazon page is: www.amazon.com/HIPAA-Deskbook-Regulations-Assessment-Standards/dp/1508439222/ref=sr_1_1?ie=UTF8&qid=1429034627&sr=8-1&keywords=hipaa+deskbook