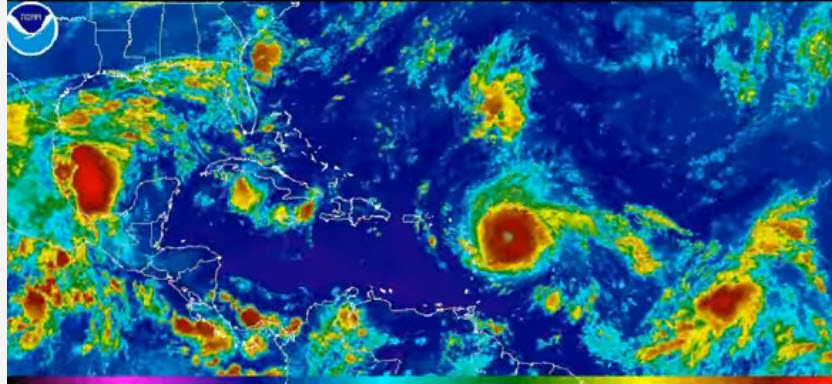 While actual storm tracks can vary considerably from projections, the severity of Irma suggests that risk managers and hospital personnel in the South Eastern US should be preparing hospitals and their own homes for damages as bad as Houston—or worse.  Consideration should be given to an orderly evacuation of unnecessary personnel in advance of a Friday or Saturday landfall.  UPDATE:  Florida Governor has activated Florida National Guard.
With Irma now rated as a CAT-5 storm and some models showing it hitting the US as "only" a CAT-4, many people do not understand what that means in terms of actual damage.  The ratings  only rate the wind speed of the storm and donot factor in rain levels and storm surge that can have massive flooding threat as well.  At the time of this update, IRMA wind speeds are reported at sustained speeds of 180 miles per hour, which poses extreme risks to life in the path of the storm.
While the normal human tendency toward "normalcy bias" would cause civil authorities to hope for the best, public safety and hospital authorities should move quickly to realistically assess the risks in their area from direct hits and impact of outer bands and residuals on their location and TAKE ACTION as indicated.  Hurricane Harvey is still impacting Texas as a stark example of current impacts, and Florida has Hurricane Andrew as a horrible precedent for those old enough to remember it.
What do the Category ratings actually mean? 
The official NOAA definitions are:
| | | |
| --- | --- | --- |
| | | CAT-1 Very dangerous winds will produce some damage:  (74-95 mph) Well-constructed frame homes could have damage to roof, shingles, vinyl siding and gutters. Large branches of trees will snap and shallowly rooted trees may be toppled. Extensive damage to power lines and poles likely will result in power outages that could last a few to several days. |
| | | CAT-2 Extremely dangerous winds will cause extensive damage: (96-110 mph) Well-constructed frame homes could sustain major roof and siding damage. Many shallowly rooted trees will be snapped or uprooted and block numerous roads. Near-total power loss is expected with outages that could last from several days to weeks. |
| | | CAT-3 Devastating damage will occur: MAJOR (111-129 mph) Well-built framed homes may incur major damage or removal of roof decking and gable ends. Many trees will be snapped or uprooted, blocking numerous roads. Electricity and water will be unavailable for several days to weeks after the storm passes. |
| | | CAT-4 Catastrophic damage will occur: MAJOR (130-156) Well-built framed homes can sustain severe damage with loss of most of the roof structure and/or some exterior walls. Most trees will be snapped or uprooted and power poles downed. Fallen trees and power poles will isolate residential areas. Power outages will last weeks to possibly months. Most of the area will be uninhabitable for weeks or months. |
| | | CAT-5 Catastrophic damage will occur: MAJOR (157 or higher) A high percentage of framed homes will be destroyed, with total roof failure and wall collapse. Fallen trees and power poles will isolate residential areas. Power outages will last for weeks to possibly months. Most of the area will be uninhabitable for weeks or months. |